Child, early & forced marriage
Child, early & forced marriage
Child, early and forced marriages are closely associated with young adolescent pregnancy and early motherhood. Once married, young girls are often faced with an expectation to prove their fertility and get pregnant. 9 out of 10 births to young girls happen within marriage.
Despite being prohibited by international law and national laws in many countries, 1 in 9 girls in developing countries (except China) is married before they turn 15 years old. 1 in every 3 girls is married before they turn 18 and in the least developed countries the prevalence of child marriage is even higher – nearly 1 in 2.
Marrying off daughters at an early age can be part of the local culture, caused by poverty, or can even be seen as a protective measure; for instance to protect the girl against pre-marital sexual advances, or to get her out of a refugee camp. Parents will do what they think is the best for their daughters and what they find necessary in a given cultural, economic or humanitarian context.
Child, early and forced marriages are considered harmful practices – alongside female genital mutilation (FGM), for instance – and human rights violations. As girls are often married to much older men, child marriage underpins gender inequality. It often forces girls out of school and inhibits their chance to break out of poverty. Rather, it increases their risk of passing poverty on to the next generation in an intergenerational cycle of deprivation. Early marriage most often means that girls are expected to fulfil the role of a housewife and soon after that of a mother; denying them of their youth and life choices.
While boys are also married as children, child, early and forced marriages affect girls in much greater numbers.
This is the story of Nargis & Nayeem
Nargis is 16 years old & Nayeem is 1.5 year old
Nargis, 16, lives with her son, her husband and her in-laws in a rural village in Bangladesh. Nargis parents did not want her to get married, but said they had no choice since they could not afford to support her anymore. Nargis works in a garment factory to save money for her son's future education.
I studied until the eighth grade. I really liked school; my favorite subject was science. I had a dream to study law, but my parents couldn't afford it.
Although I knew of the consequences of an early marriage, I still ended up getting married at 14 because my parents are extremely poor. At the time of the wedding, I was very nervous. I didn't know my husband – even now I don't know his age. I think he's around 25 and he works in sales. I didn't want to move into his house. I remember crying a lot. Everyone around me somehow convinced me though.
I didn't know anything about the human body. I started having my periods only two or three months before my marriage. I got pregnant and I was fine, I didn't feel sick. At first I didn't want to be a mother but after I got married, people change their mind. You don't think like before.
I had some complications during my labour so I was supposed to have a C-section. Because of my very low blood count, they couldn't do it. I had a normal delivery instead and it was very painful. I wasn't afraid, but it was so hard.
I felt happy seeing my son for the first time. I didn't recognise this feeling before but now I understand how it feels to be a mother. My husband was also very happy. He always wanted a son. Now I take contraceptive pills. It was my husband who suggested this idea. I don't want any more children right now.
I'm working in a garment factory to save enough money for the future so that my son can get an education and move forward in life. I stitch sleeves. It's not so hard; the machine does all the work. I get up at 5.30 in the morning and then I cook. I have my breakfast, take a shower and feed my son. At seven o'clock I take the staff bus. I come back home after work around eight o'clock in the evening. If my son is sleeping, I don't wake him up. If he's awake I feed him, finish dinner and get ready for bed. I do feel bad that I'm away from him all day. But when he starts school I won't work anymore. Then I'll be there to help him with his studies.
All my future plans now are for my son. When Nayeem turns three, he'll start school. I do have dreams of my own and that's to pass my exams and finish school. My husband has said that he will let me study later. For now I'm happy with my life. I'm married and I have a son. Do people ever stay the same after this?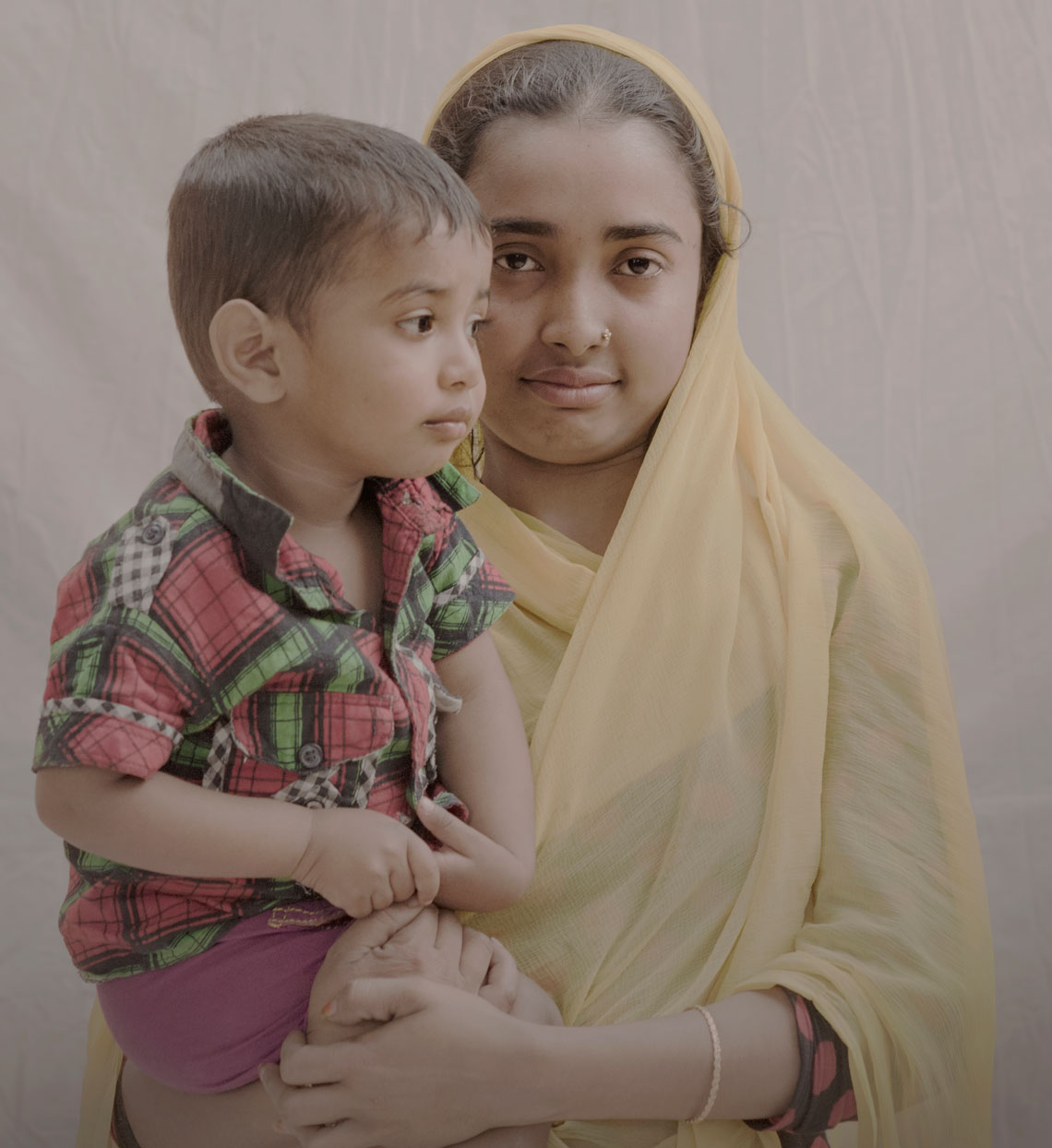 "I knew about the consequences of early marriage, but still, I had to get married at 14."
More stories about child, early & forced marriage