Very early motherhood
Every year, an estimated 2 million girls give birth before they turn 15. That is equal to 5,500 very young girls a day who go directly from childhood to motherhood.
A large proportion of pregnancies among young adolescent girls are unintended. Early motherhood is often associated with the girls being out of school, and it is estimated that 90% of girls who give birth are married. Adolescent girls often have limited or no access to sexual and reproductive health information, education or services. Therefore, they are likely to lack basic information about their bodies, puberty, sexuality and reproduction and to have inadequate access contraceptive counselling and services.
Child mothers are invisible
Very young mothers are often invisible in national and global statistics that only consider women between15-49 years to be of reproductive age. Young girls are also often excluded from, or beyond the reach of, health, education and development interventions. Yet, girls under the age of 15 face the greatest risk of complications and death from pregnancy and childbirth. Every year, an estimated 70,000 girls between the ages 10 to 19 die from complications related to pregnancy and childbirth.
Adolescents should be equipped to make their own life choices: to decide which education or vocational training to pursue; which job opportunities to aim for ; to decide whom to take as a partner and whether, when and whom to marry and start a family. Yet, every year, millions of girls have their life choices severely limited by becoming mothers too early.
This is the story of Mulenga & Felicity
Mulenga is 14 years old & Felicity is 5 weeks old
Mulenga lives with her daughter, her parents, her father's second wife and her ten siblings in a remote village in Zambia. She used to go to school and wanted to become a doctor when her mother discovered she was pregnant.
It's difficult being a mother. I don't have time to play anymore. My daughter often cries and I have to stay at home and take care of her and wash nappies. Before I had a baby, I used to play and go wherever I wanted. I like playing football.
I had no idea how you get pregnant. I didn't even know I was pregnant. We didn't learn about those things at school. It was my mother who told me I wasn't looking well. When I realized I was going to have a child, I was upset and annoyed. My mother was too. I told my boyfriend, but he denied responsibility.
My father took me to my boyfriend's home and told his parents: 'We've brought this child here because she's pregnant. You can only return her once you've paid us 5000 Kwacha.' 
It took four months before they paid a third of the money and I had to stay there during that time. He's not my boyfriend anymore, but we talk to each other sometimes.
I was afraid of the delivery. When the nurse told me what it was like to give birth, I thought I might die. I went to the clinic with my mother in an ox cart. My labour was very painful, but I didn't get any injuries. When we came back with the baby, I didn't know how to take care of her, so my mother taught me. She helps me a lot, even at night when my baby cries.
I don't like being a mother, but I like my child. I feel good when I look at her. I worry about the future and who will buy her things like soap and clothes. When she grows up, I'll take her to school so she gets educated because it's good for her. I'll also warn her and tell her not to go out with boys.
Before I had the baby, I was in seventh grade and I really liked school. My favorite subject was math and I wanted to become a doctor. I hope I can go back to school when the baby is six months old because then my mother can take care of her. I want to become a nurse, and I know that if I study and pass the exam, I can do it.
I've recently learned you can protect yourself from being pregnant. You can go to the clinic and get contraceptives, but I'm too shy to go there and ask for it. I've stopped sleeping with boys.
MARY, 46, MOTHER TO MULENGA:
I was very sad when I learned about Mulenga's pregnancy. When it was time for labour, I went with Mulenga to the clinic. I was scared because I know what it's like. I felt like it was me going through everything again. The first weeks Mulenga wasn't very caring, so I took care of the baby and taught her how to do it. I hope she can go back to school, maybe when the baby gets older. She's not allowed to have any more boyfriends.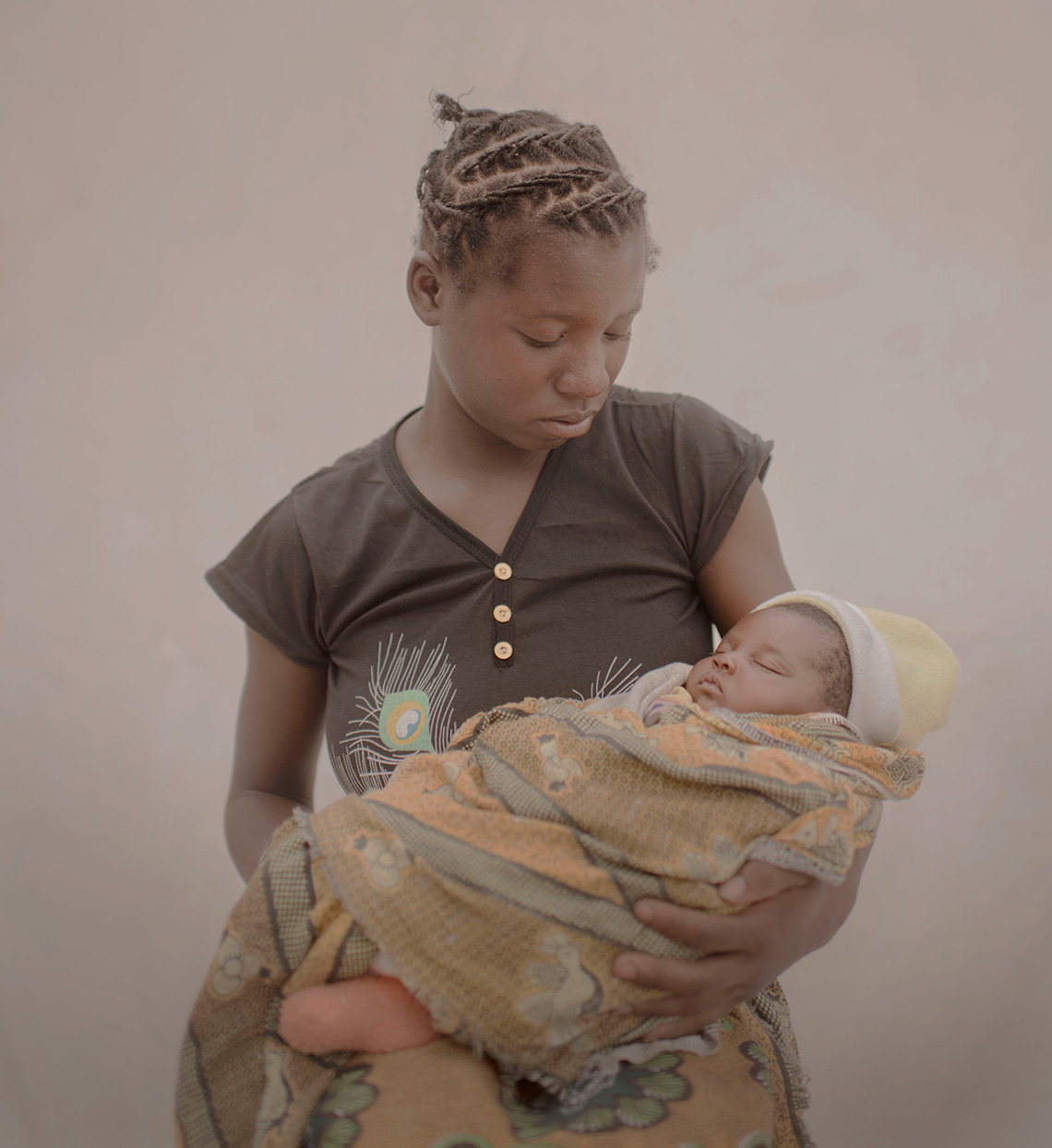 "Before I had a baby, I used to play and go wherever I wanted. I like playing football."
More stories about very early motherhood